Step Inside the Icy Blue Heart of Iceland's Glaciers!
There are many natural wonders on this Earth, and a few of them, fortunately for us and all visitors, are in Iceland. Ice caves are just one of the many exquisite sites to check out on the island. As the land of volcanoes and glaciers, Iceland is full of ice caves, which come in all sizes and shapes. Some are tiny crevasses; others loom like large caverns. Some of them are man-made, easily reachable via jeep; others are accessible only with a knowledgeable guide. Don't miss your chance to marvel at the vibrant indigo, translucent whites and inky blacks of a glacier's underbelly.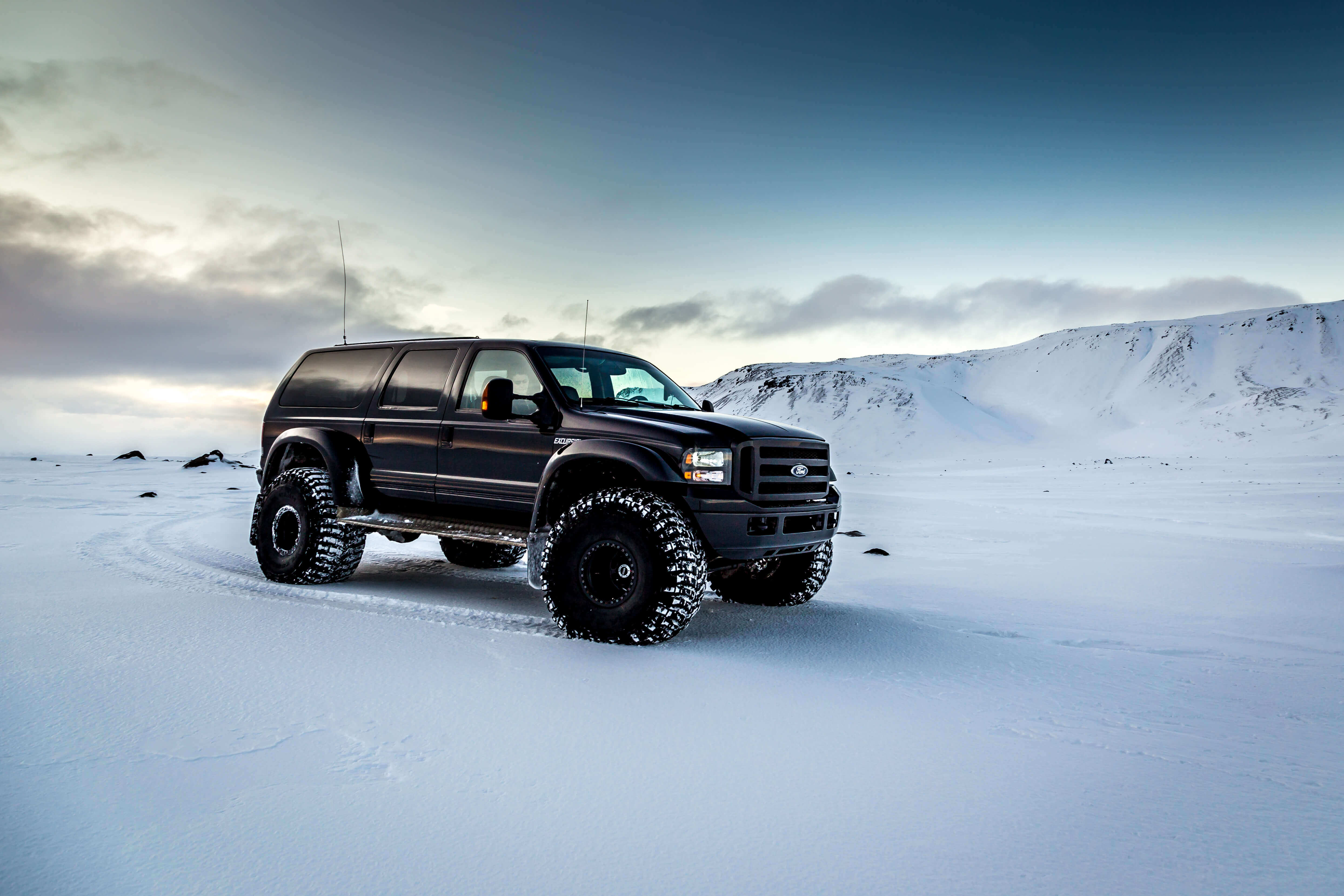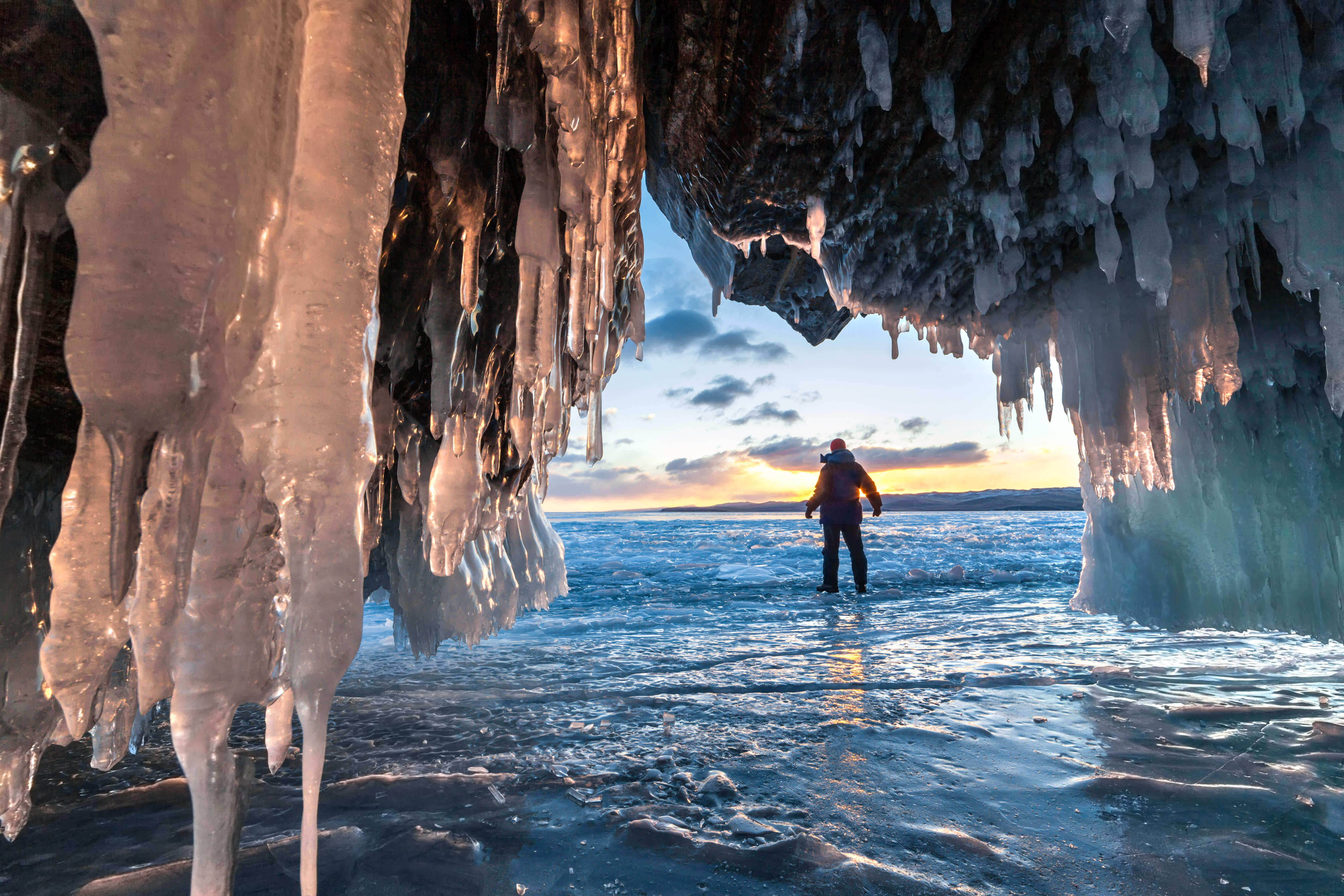 1) WHEN'S THE BEST TIME TO GO SEE AN ICE CAVE?
You'll want to set up your ice caving trip in the wintertime, as this is when the caves are at their most resplendent. November to March marks official ice cave season. The popularity of caves means that tours often sell out space. Outside of the winter months, a visit to ice caves are a bit perilous. In the summer, glaciers decline and retreat, ice is unstable and slippery, and caves may likely disappear altogether.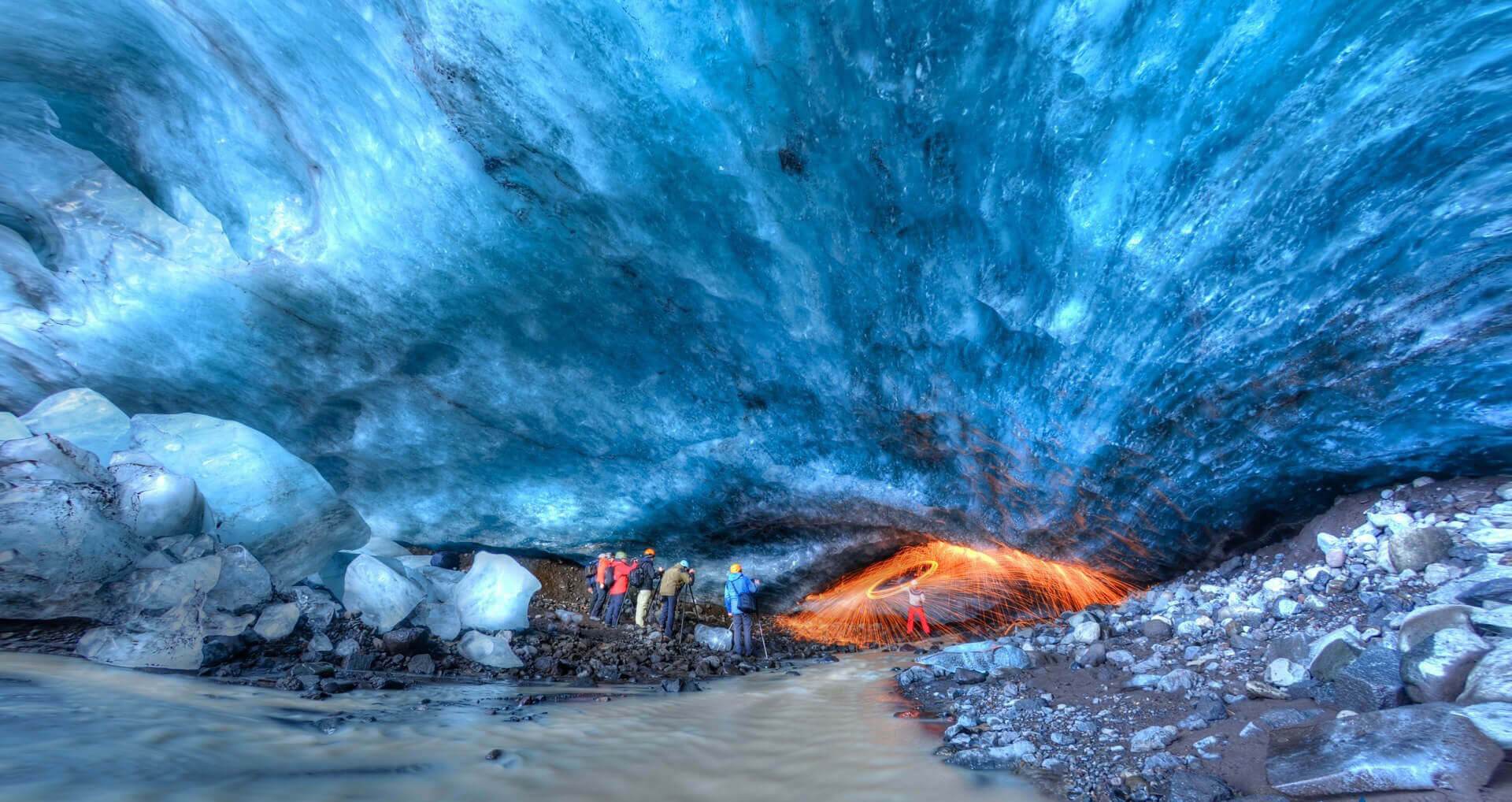 2)
 

HOW ARE ICE CAVES MADE?

Ice caves are natural phenomena that occur when a heat source carves out massive holes in glaciers. Ice caves form one of two ways: either from the water that runs through or beneath a glacier, or from the geothermal heat from volcanoes below the surface. As the water or heat warms the ice, an air gap begins to slowly expand into a cavern. Most caves in Iceland are born from geothermal heat—and it's no wonder, considering the island's 30 volcanic systems that are alive and active.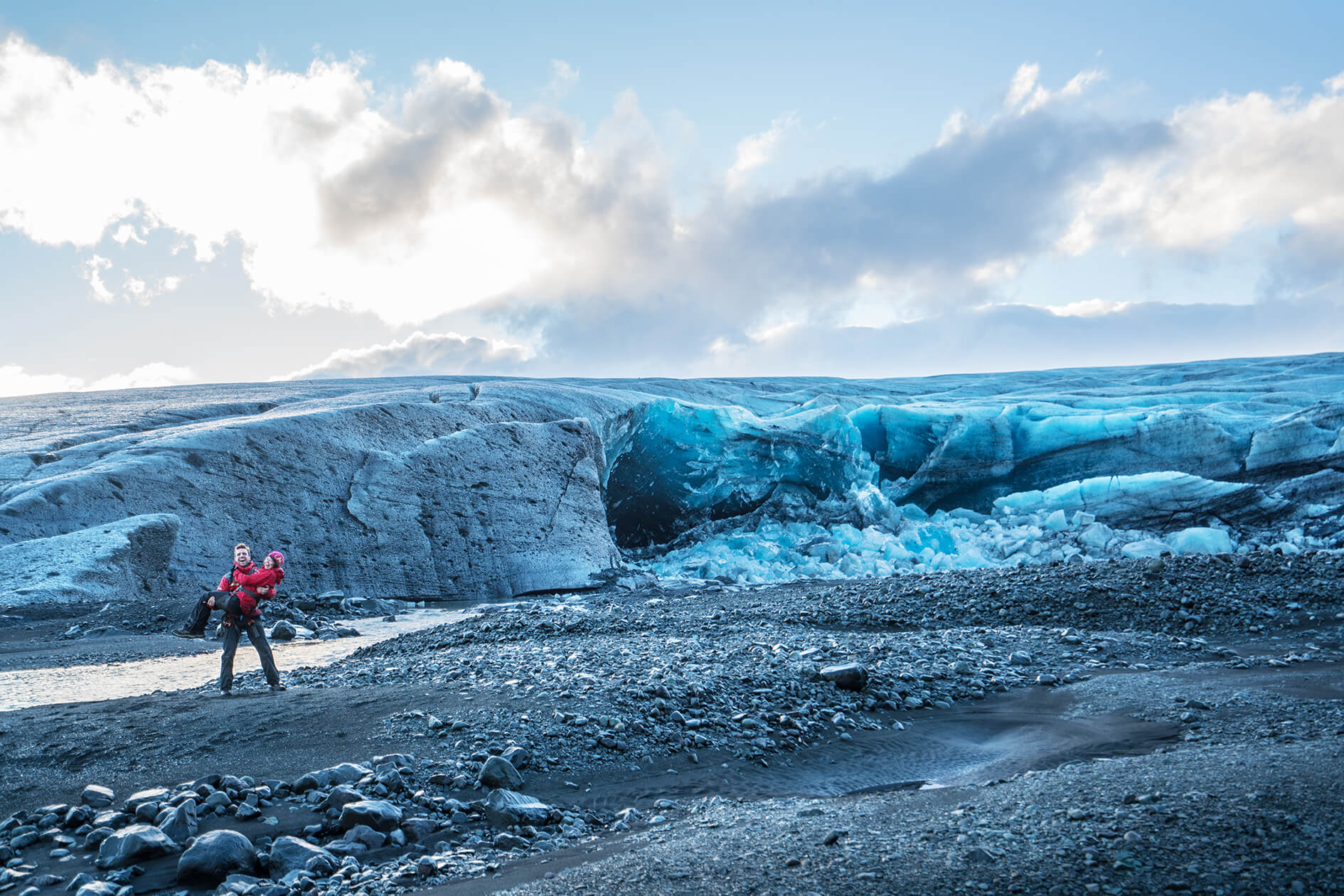 3) WHO FINDS THE ICE CAVES?
Since glaciers change and evolve each summer, ice caves are different and unpredictable year to year. Only a handful stay the same. In autumn, at the beginning of each glacier season, mountaineers run scouting trips around the southern edge of Iceland and in Vatnajökull National Park, hunting for caves that may have formed over the summer. They can spend days out in the field, searching and carving out accessible paths for tourists.
4) ARE THERE ANY MAN-MADE CAVES?
Most of the caves in Iceland are au naturel, but if you want the man-made experience, the ice cave near Langjökull in West Iceland takes you straight into the heart of Europe's second largest glacier. Here you can explore excavated tunnels and learn all about the science behind snow, ice, and glacial evolution. Since it opened in 2015, it's been a popular place to check out glacial ice up-close and personal. You can even get married in the on-site ice chapel.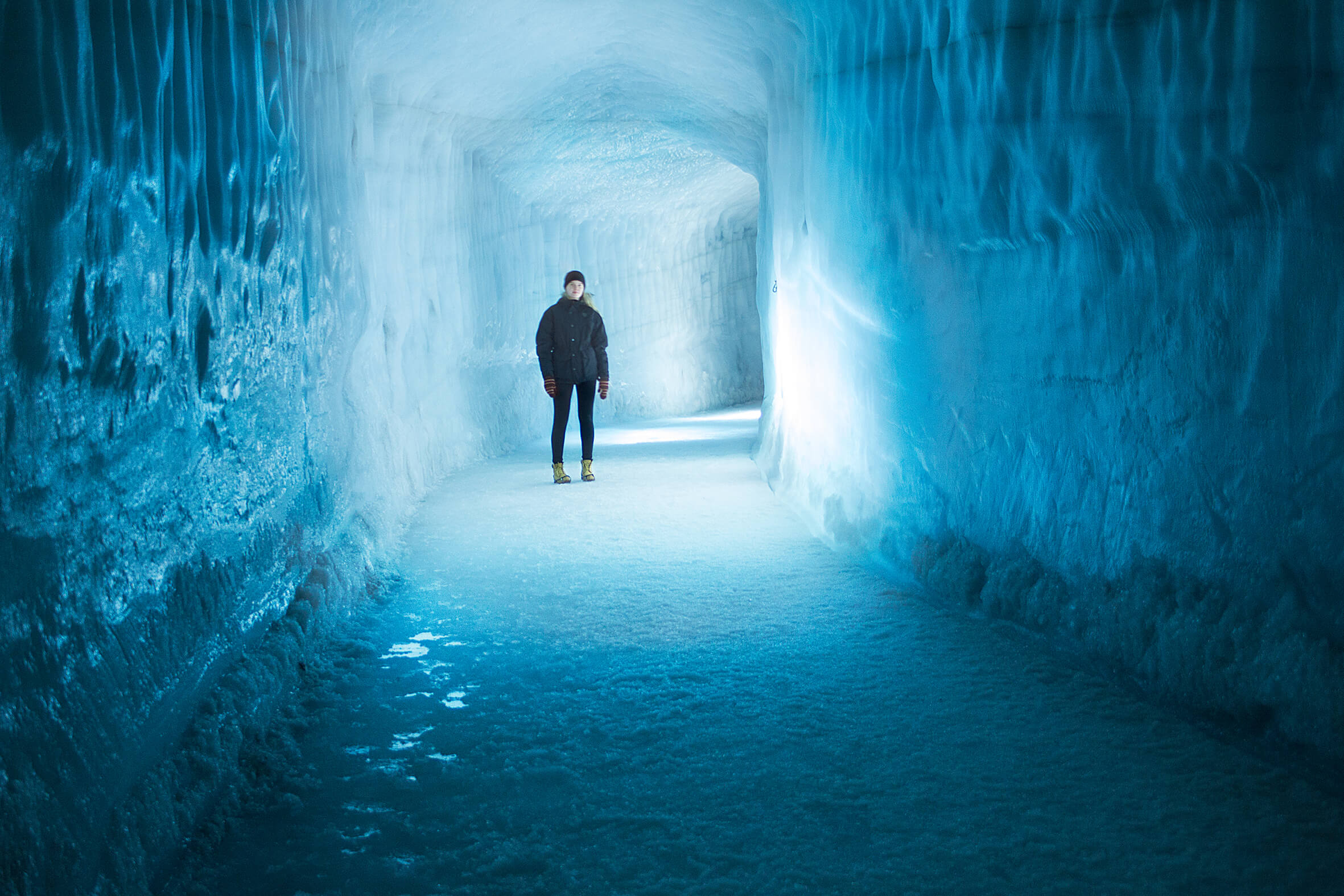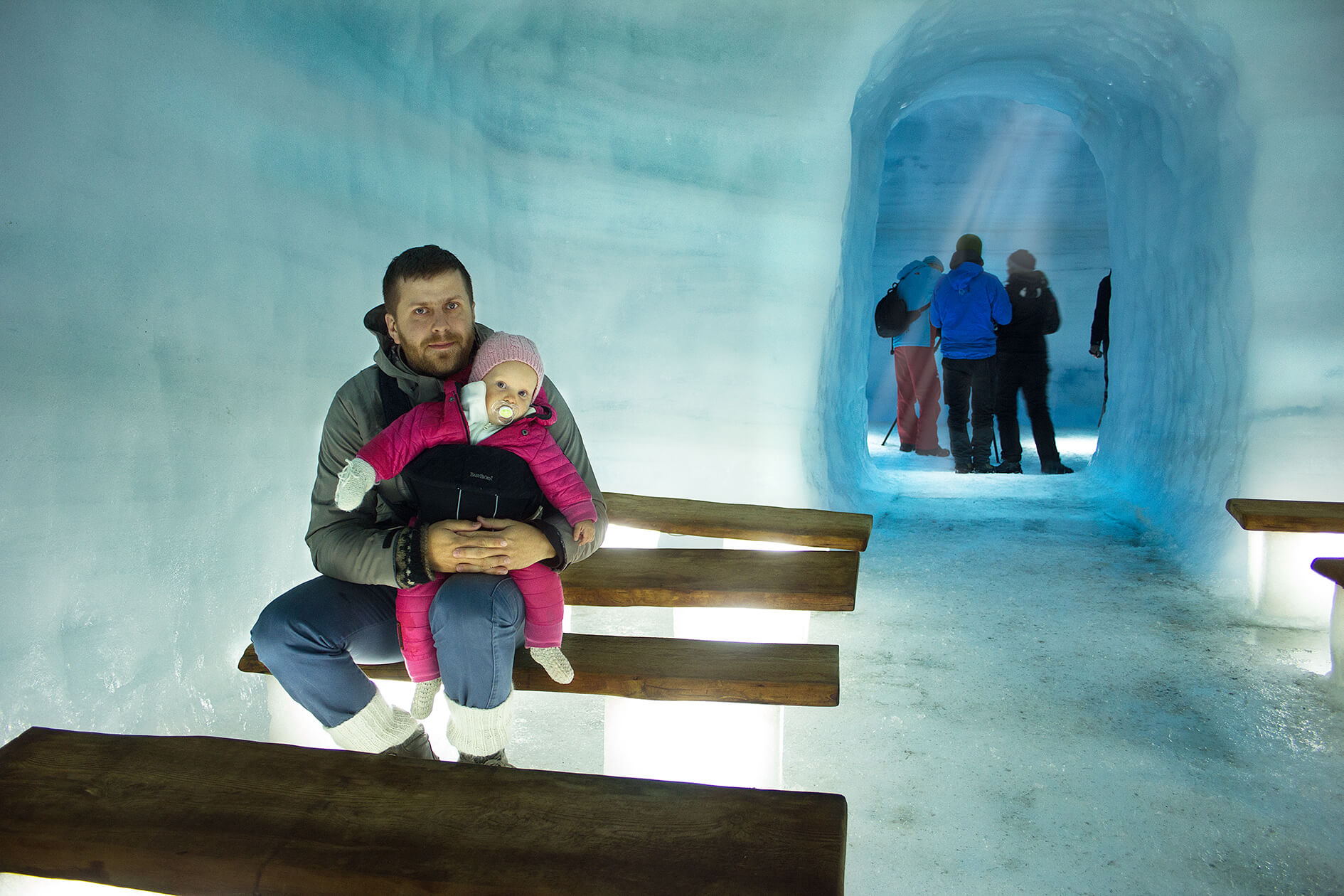 5) ARE THEY SAFE?
The weather in Iceland is notoriously unpredictable, and conditions can change from hour to hour. It's important above all else to go ice caving with a reliable guide. Professionally trained guides will be quick to point out safety concerns, dangerous crevasses, and other potential hazards of navigating a massive ice cap. They'll be sure to outfit you with all the necessary cave and glacier equipment, including crampons, helmets, and a headlight. They check the conditions and forecast daily to determine whether it is safe to climb on the glacier.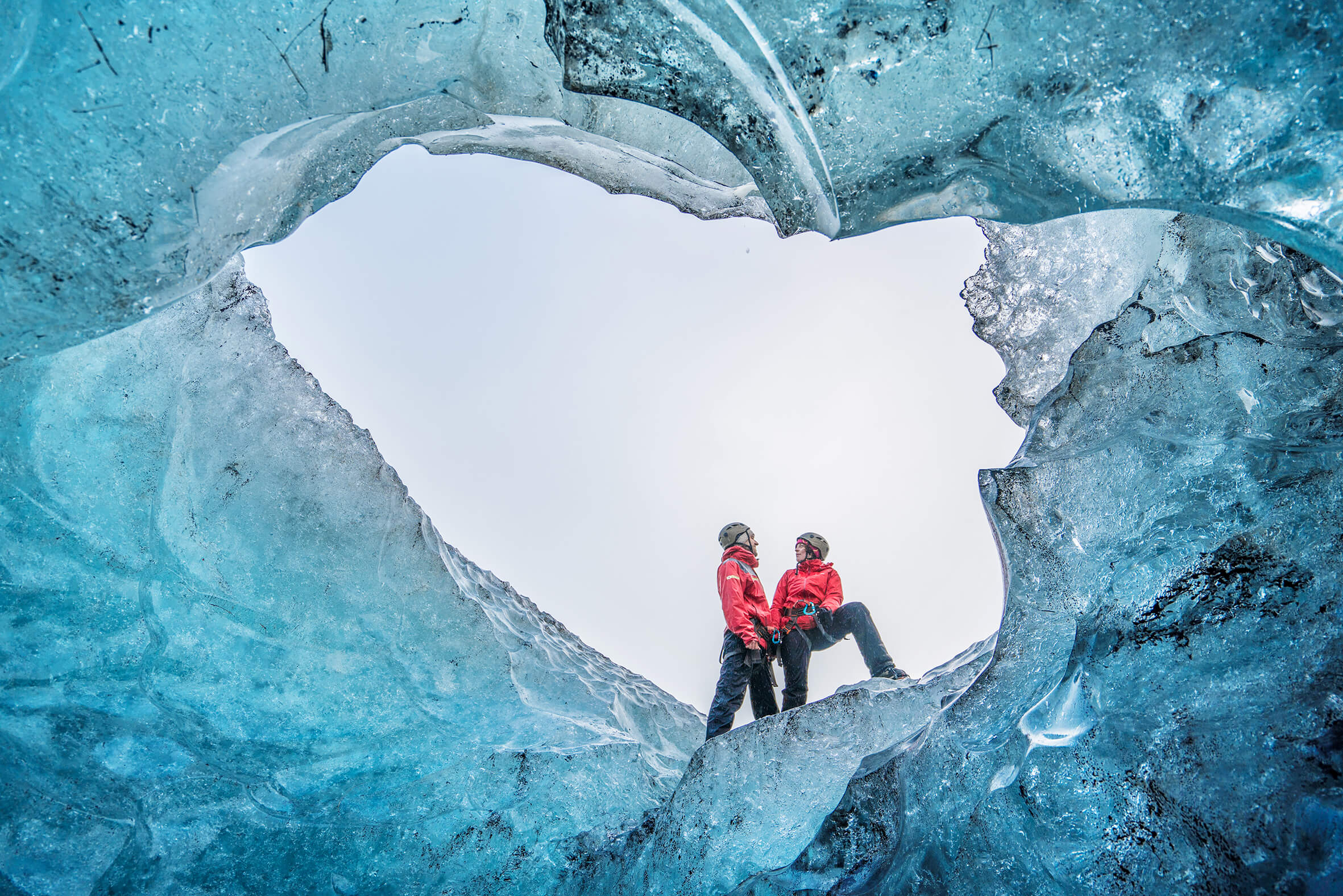 6) CHOOSING THE RIGHT COMPANY!
There are only a handful of qualified guides in Iceland and with Eskimos your are sure to be in good hands on your tour from the drive there and all the way in to the cave and back again! Want to check out the man-made cave in Borgafjordur, we recommend that you stay overnight in a near by hotel Húsafell and explore the area while there. The prime location for the real ice caves is the huge glacier cap of Vatnajökull, on the southeastern edge of Iceland. Many tours start near this ice cap.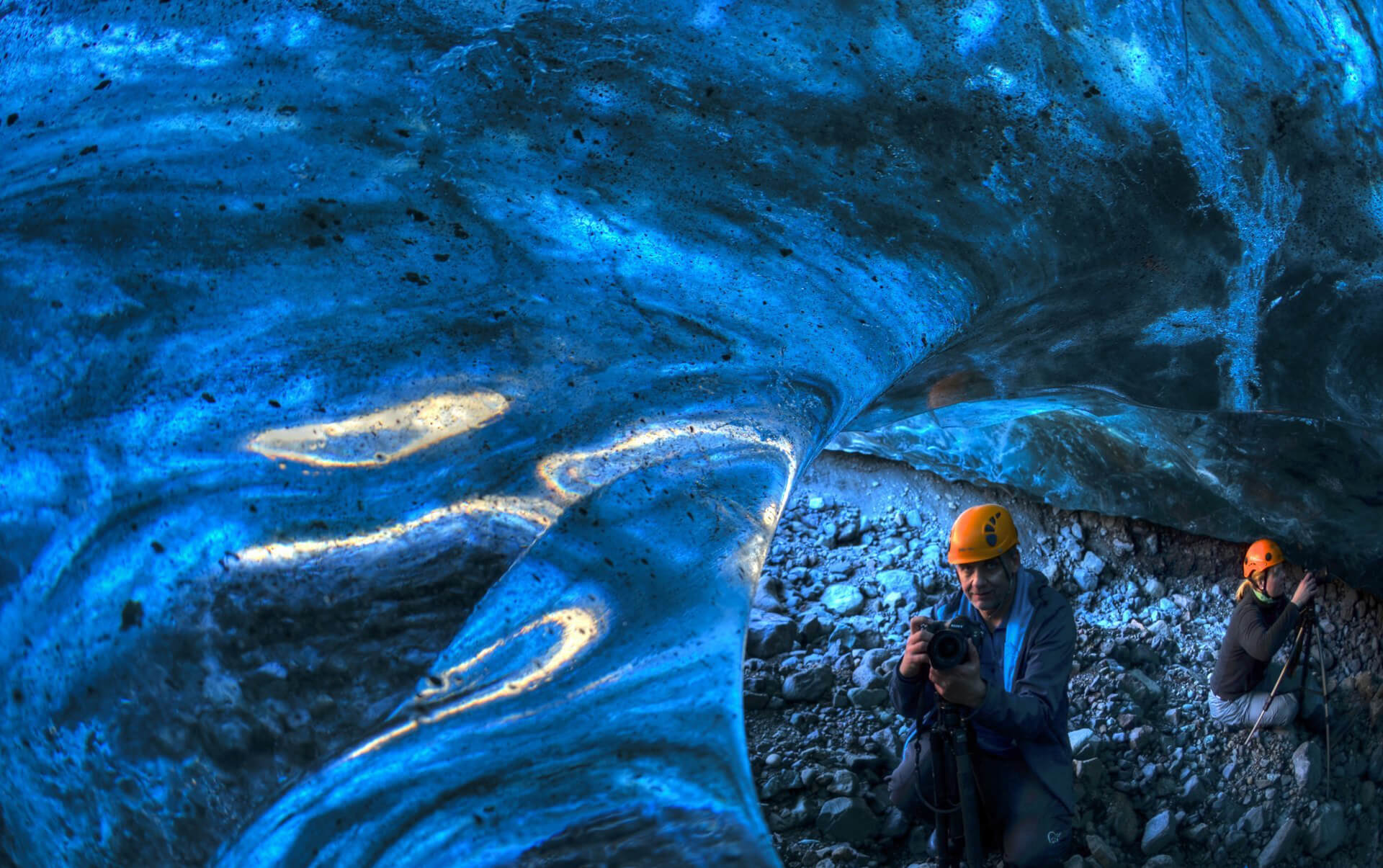 7) WHAT ARE SOME OF THE DIFFICULTIES?
Most ice cave trips involve strenuous hiking and, occasionally, ice climbing. For this reason, we recommend that you be in competent physical shape, flexible and fit for hiking, but it all depends on the cave chosen each time. The age limit usually starts around ten, but this differs from tour to tour. The trail will likely be freezing and slippery, so dress warmly, in waterproof clothes and sturdy hiking boots.
You should never climb or walk on glaciers on your own. Guides are handy in that they point out cracks in the ice, secure rope to cliffs for easy climbing, and keep you from falling into deep crevices. Whether or not you have years of experience, local mountaineers have knowledge of the local terrain that you simply do not. It's not uncommon in Iceland to hear about skilled hikers that go missing on the glacier. The weather changes rapidly and you don't want to be caught in the elements when a winter storm erupts.
Ice caves are dazzling feats of nature, and it's no wonder they feature so prominently in landscape photography of Iceland. To scout that magnificent blue seen in many works, look for the deeply impacted ice in Vatnajökull. The best time is around late morning or noon, on a clear day, so that the winter sun shines for a few precious moments through the ice roof.
So what are you waiting for? Head out into the Icelandic winter to capture stunning photos of icy stalactites and frozen sculptures seen in few other places on Earth.
8) ICE CAVE PROPOSAL or Romantic honeymoon tours!
If you are looking for a really nice Ice Cave experience it is possible to have the cave privately all to yourself. Offers a unique opportunity to get great photographs or even propose to your special someone!
A while back Eskimos prepared a really romantic moment for a gentleman that was hoping to propose to his girlfriend in a really special way. We had the ring tied with a knot onto an ice screw that was then screwed into the ice. He led her to the ring untied the knot and got down on one knee and popped the question. With out a doubt she said yes and the romantic surprises just kept on coming for the rest of the trip!
Are you thinking of exploring an ice cave while you're in Iceland?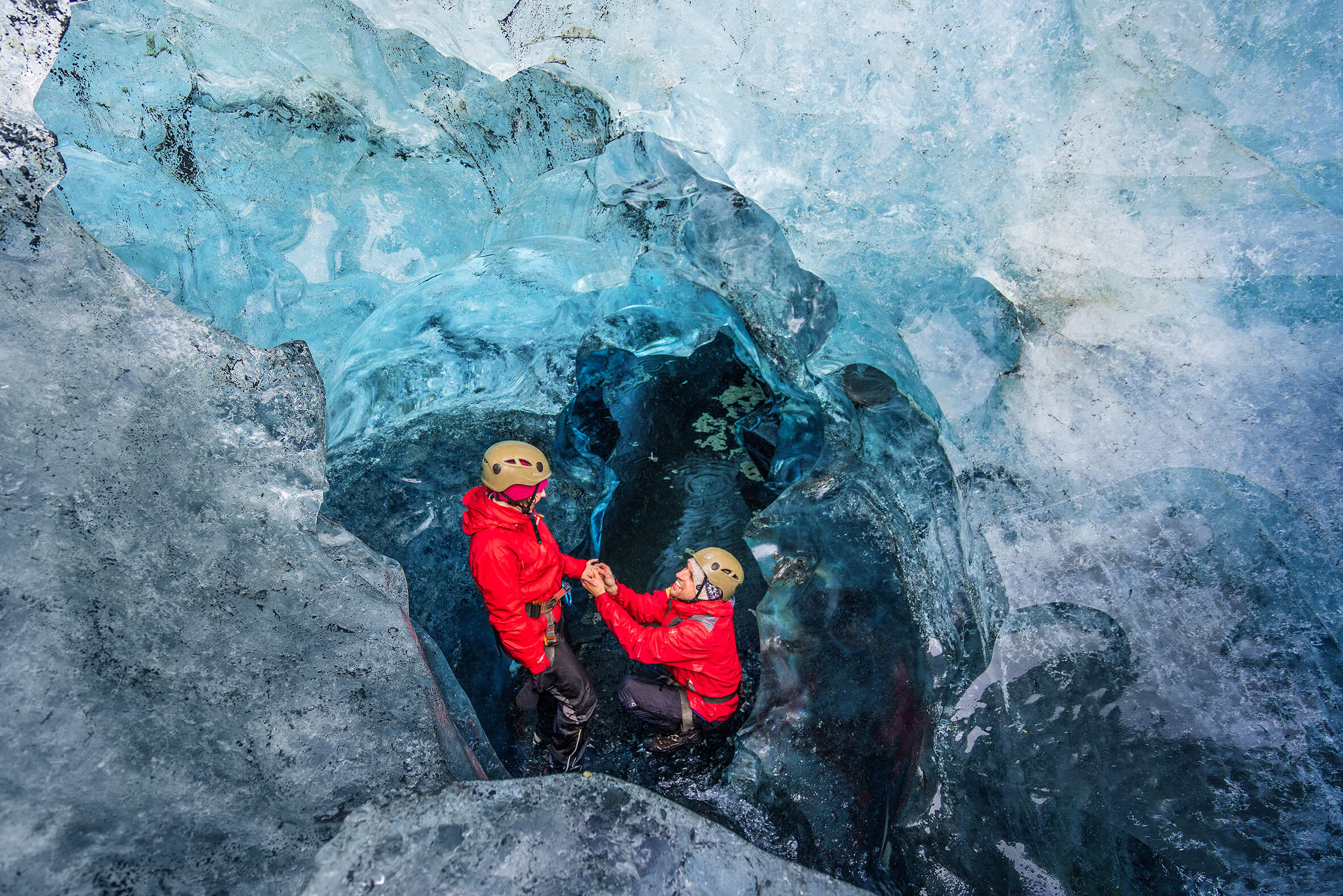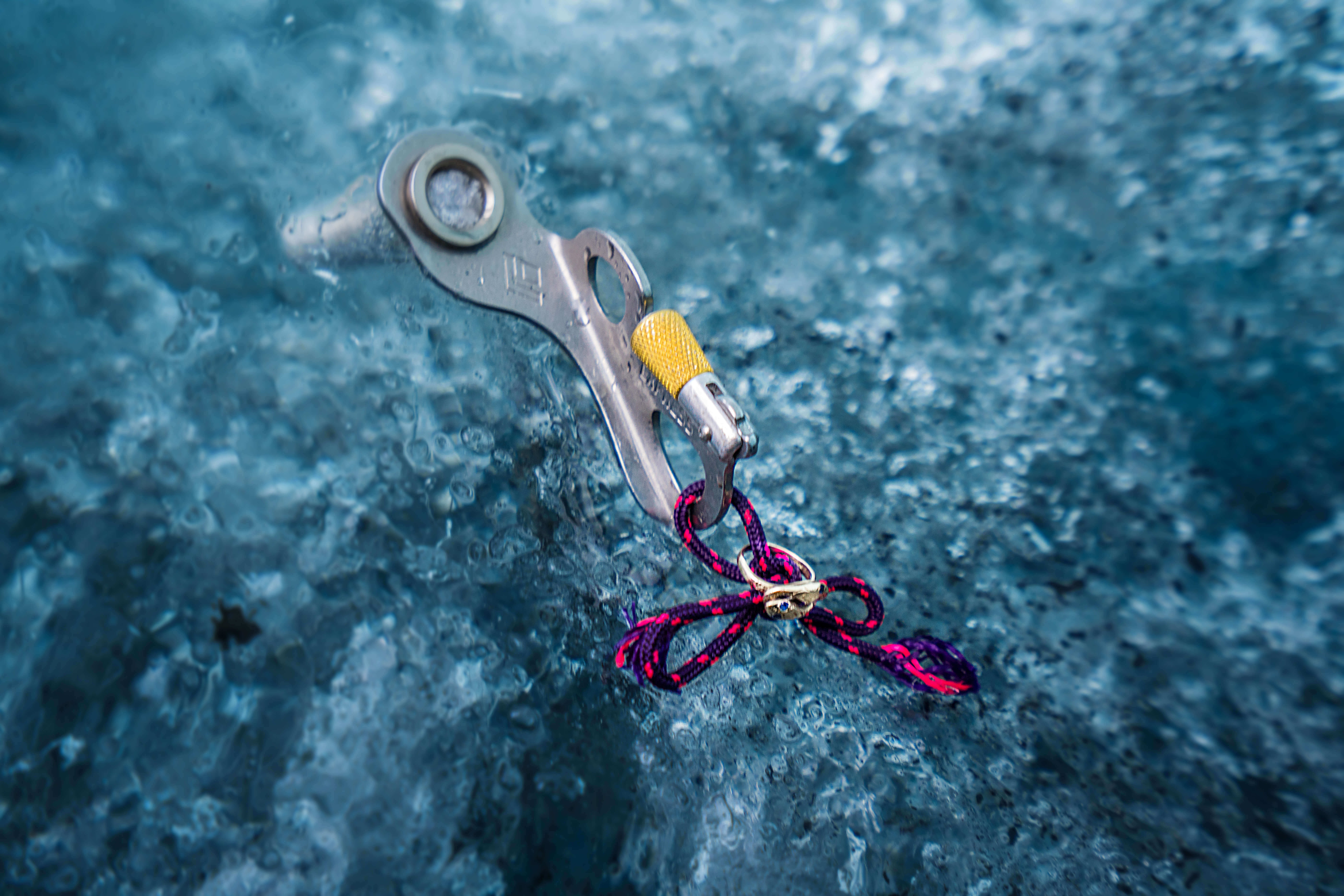 Check out our Ice cave packages
You don't wanna miss this experience when in Iceland!