Iceland is a magical country
The landscapes look like they belong in a fairy-tale, steaming romantic hot springs are just waiting to be enjoyed, and waterfalls can be found trickling down around every corner. You can understand why many Icelanders truly believe in elves and trolls hiding within the rocks. And every winter there is one natural phenomena that will undoubtedly make you believe in magic, the northern lights.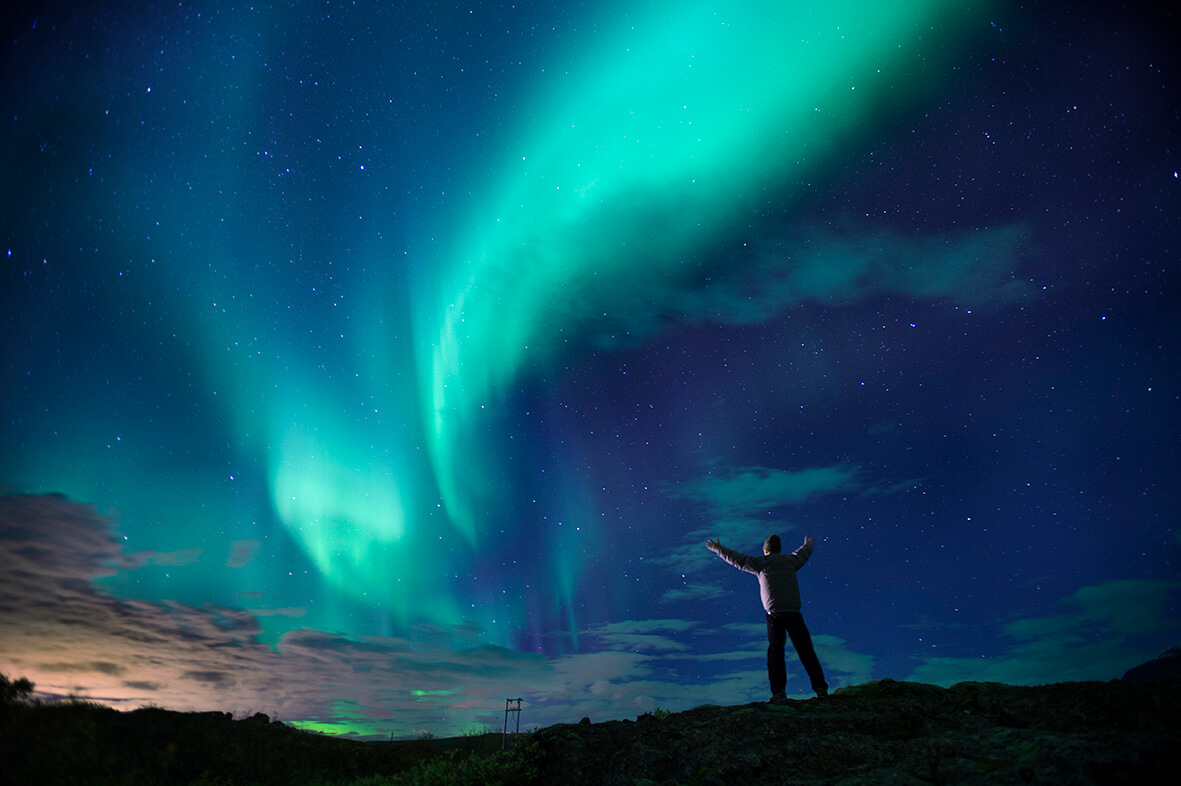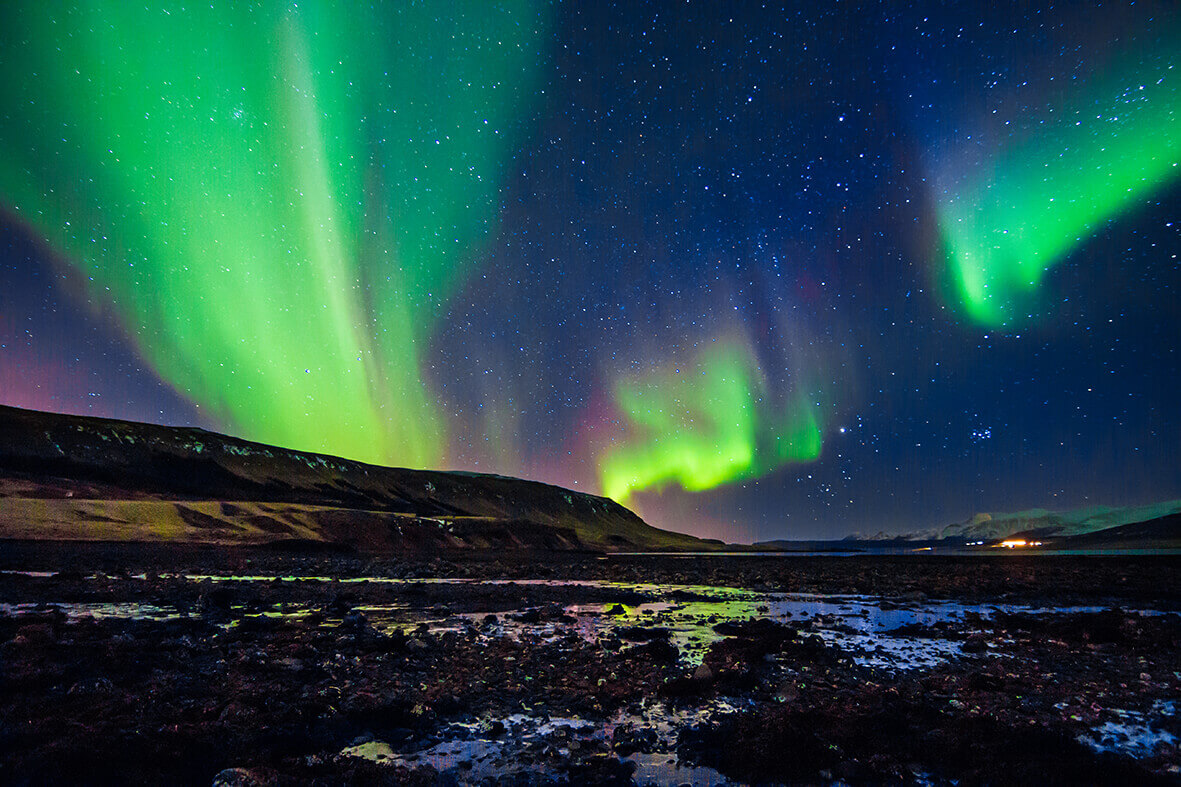 The Northern Lights
From September to April, we keep our fingers crossed for clear night skies to bring the dancing northern lights our way. There is nothing more magical than being bundled up watching the mystical streaks of color dance their way across the dark winter sky.
If you have 'seeing the northern lights' on your bucket list, what are you waiting for? Make your way up to Iceland this winter and with the help of this guide and hopefully Eskimos Travel experts you can tick seeing this incredible display of Mother Nature off your bucket list!
WHAT ARE THE NORTHERN LIGHTS?
The aurora Borealis, commonly known as the northern lights, are caused by collisions between electrically charged particles from the sun that enter the earth's atmosphere. The particles are blown towards the earth by solar wind, however most of these charged particles will be deflected by the earth's magnetic field. But, lucky for us, the magnetic field at the north and south poles are much weaker making it possible for the charged particles to enter earth's atmosphere and collide with gas particles to create the dancing colors of the northern lights.
I mean, how awesome is nature!
The northern lights can be seen in a range of colors depending on the type of gas particles that are colliding with the charged particles entering earth's hemisphere. The most common color is a yellowish green, however they can sometimes be seen in a blue or purplish color. In rare cases, the aurora shines in red. In Iceland, the most common color you see is yellowish green, however I have seen a hint of a pinkish purple in there a few times.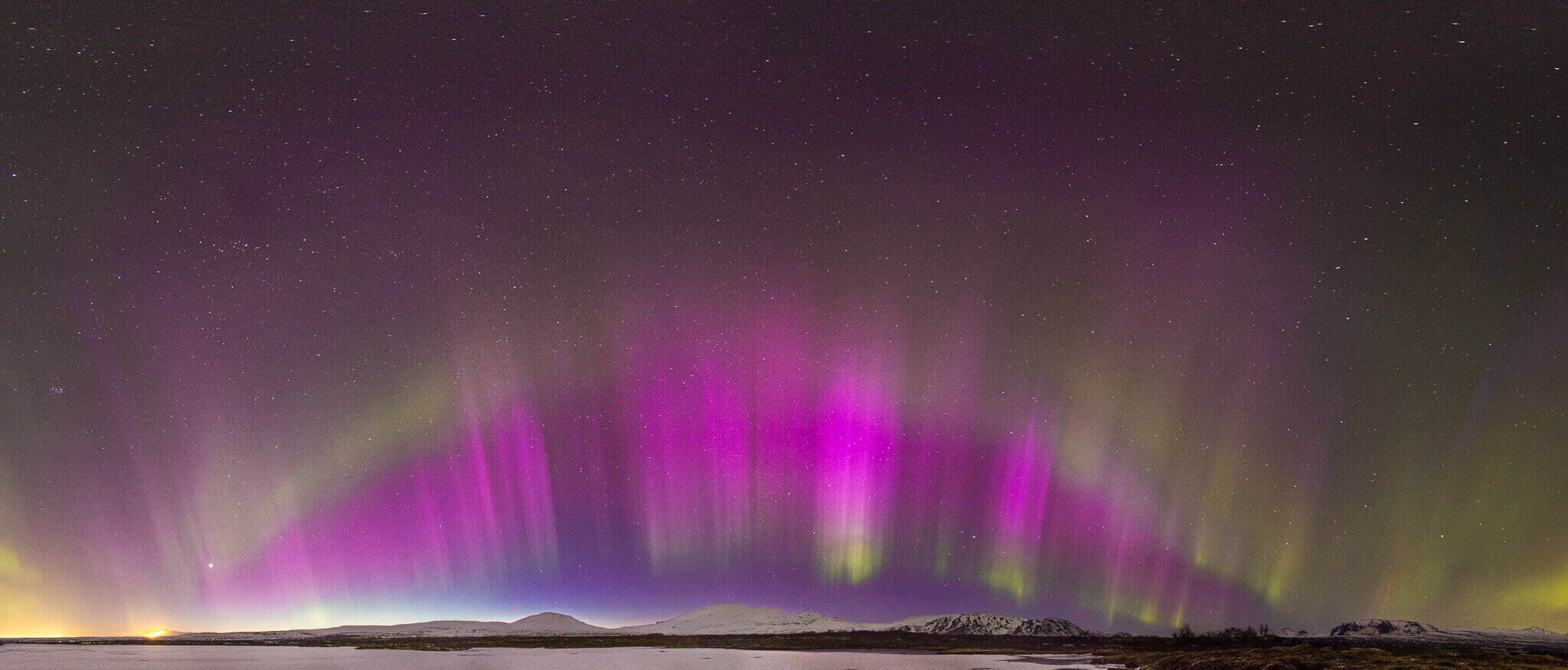 When can you see the northern lights?
In Iceland, the northern lights are visible September through April. During these months, the aurora lights are often out, however there needs to be a dark clear sky for them to be visible to the human eye. At times the clouds obstruct your view, however if you're lucky the lights will be stubborn and make the clouds glow in an alien-like way.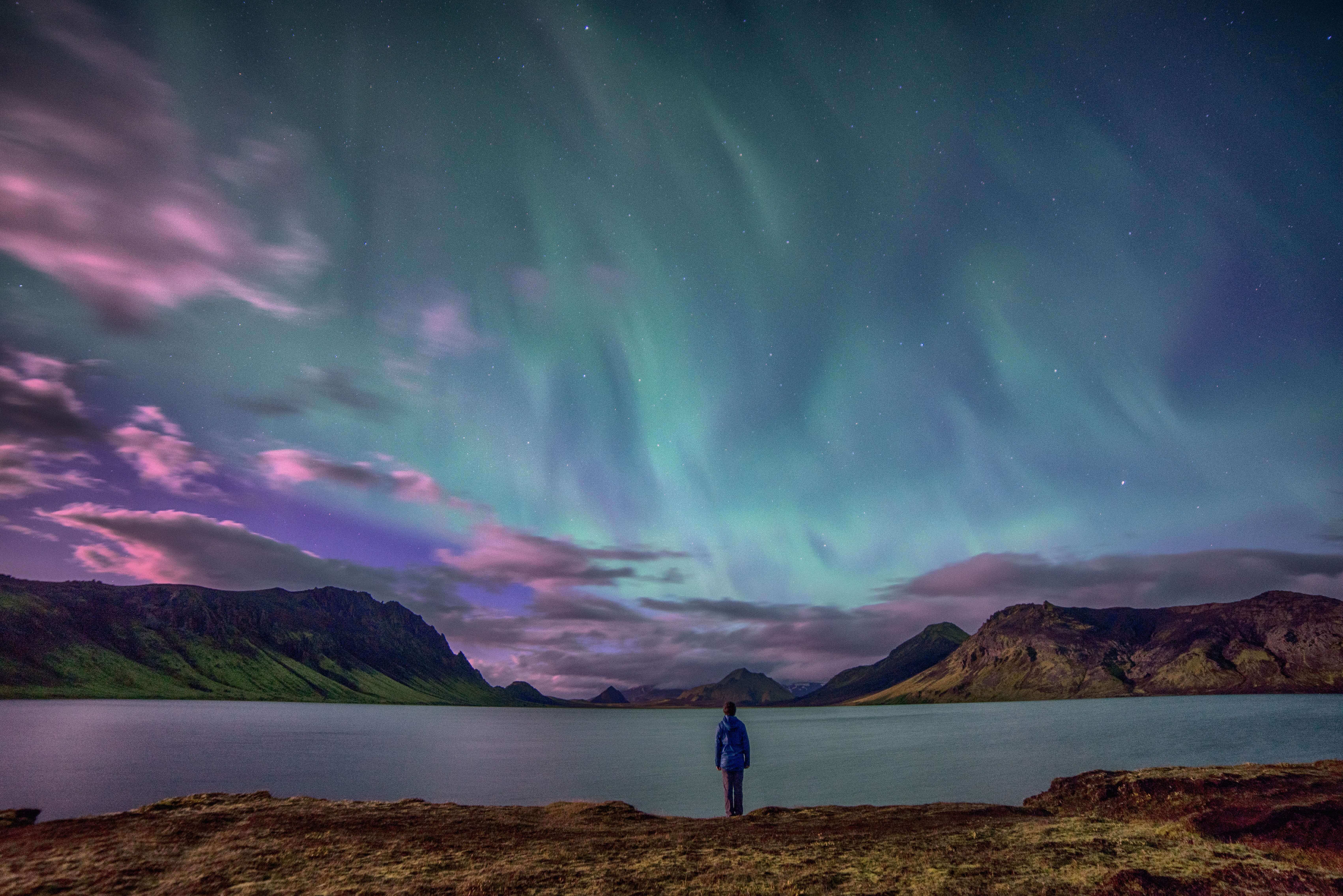 How to Photograph the Northern Lights?
When the northern lights do make their appearance, you are going to want to have your camera ready. It is no easy feat to capture a good quality picture of the dancing light show, but with these tips you will be well on your way to capturing one memorable souvenir from your travels in Iceland.
1.     GET AWAY FROM CITY LIGHTS!
Light pollution will make it very difficult to capture a great shot of the northern lights. If you are hoping to see the lights while in Reykjavik, I recommend heading out to Grótta Lighthouse just a few minutes' drive out on the Seltjarnarnes Peninsula from the city center. Here you'll find little light pollution, it's the best place close to the city to capture some great pictures of the northern lights.
2.     THE RIGHT GEAR: MANUAL CAMERA & TRIPOD.
Keeping your camera as still as possible is a major key in getting some great photographic shots of the northern lights. Using a tripod will help hold your camera still while it works its magic in capturing the lights. You'll notice if your camera moves even slightly while the lens is open attempting to capture as much light as possible, your images will appear blurred. Any camera with a manual setting will do! Manual mode means you can independently adjust the ISO, aperture and exposure time.
3.     USE A FAST, WIDE LENS.
Set your aperture to as wide as your lens allows, ideally f2.8 or f1.4. The trick with the aperture is to allow the maximum amount of light to hit your camera's sensor in the least amount of time. This will allow you to keep your ISO at a lower value creating less noise in the image.
4.     SET THE ISO ON YOUR CAMERA.
Ideally, you want your ISO to be between 400 and 1000. ISO is the level of sensitivity of your camera to available light. A high ISO can result in a grainy or 'noisy' image, so a few test shots are recommended. Make sure you do these as soon as you get out there! If the activity starts to peak while you're working out your camera settings, you'll be frazzled to get them correct quickly!
5.     KEEP YOUR CAMERA AT A NEAR OUTDOOR TEMPERATURE.
Taking your camera from a warm building out into the cold arctic air can cause condensation to form on the lens. It is best to ensure your camera doesn't experience a major temperature drop from hot to cold. It is wise to take extra battery as well, so you won't run out while you are out in the wild. The cold makes the battery run out faster.
An added bonus of photographing the northern lights is that often your camera will pick up colors that you cannot see with the naked eye. I love looking at the sky, then looking at the camera display to see the colors that are there, but yet are too far for my eyes to see.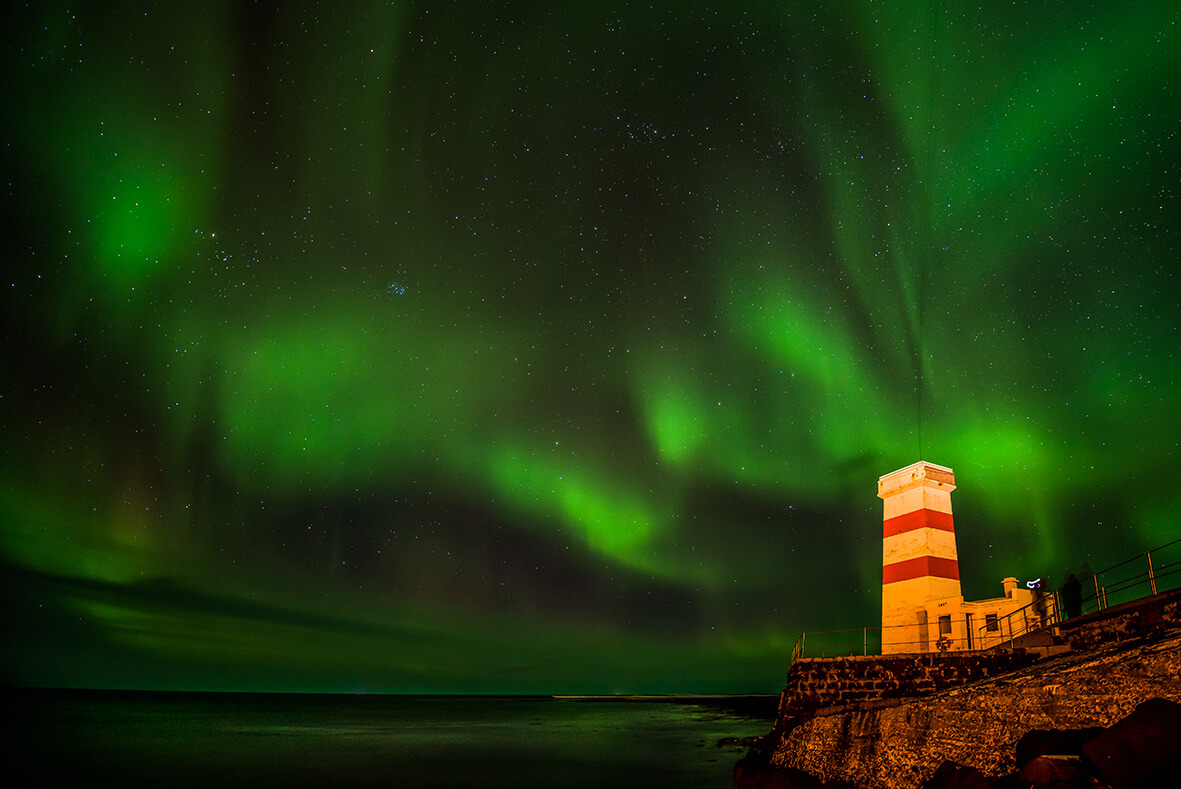 Should you book a northern lights tour?
Well that depends on how long you are staying here and if you are willing to stay a night or two in the countryside.
We always recommend people to get a few nights out in the countryside for a chance to see the northern lights, there are your best odds. Many hotels offer a Northern-Lights-wake-up call so you should not miss it even if it's in the middle of the night. That way you don't have to pay anything to see this natural phenomenon just step outside of your countryside hotel and there you have them dancing in front of you for no extra cost!
This Package – Amazing Northern Lights - is our most popular package for people looking for Northern Lights.
This Package – Extreme Northern Lights - Gives you really good odds of seeing the lights as you will stay two nights in the highlands of Iceland.

If however, you are only staying in Reykjavik for a short break we do recommend that you book a tour that takes you away from the cities light pollution. Even though you can sometimes see the lights in the city it will never compare to what the show is like away from Reykjavik.
This Package – Long Stopover – for those only stopping for 2 short nights in Iceland.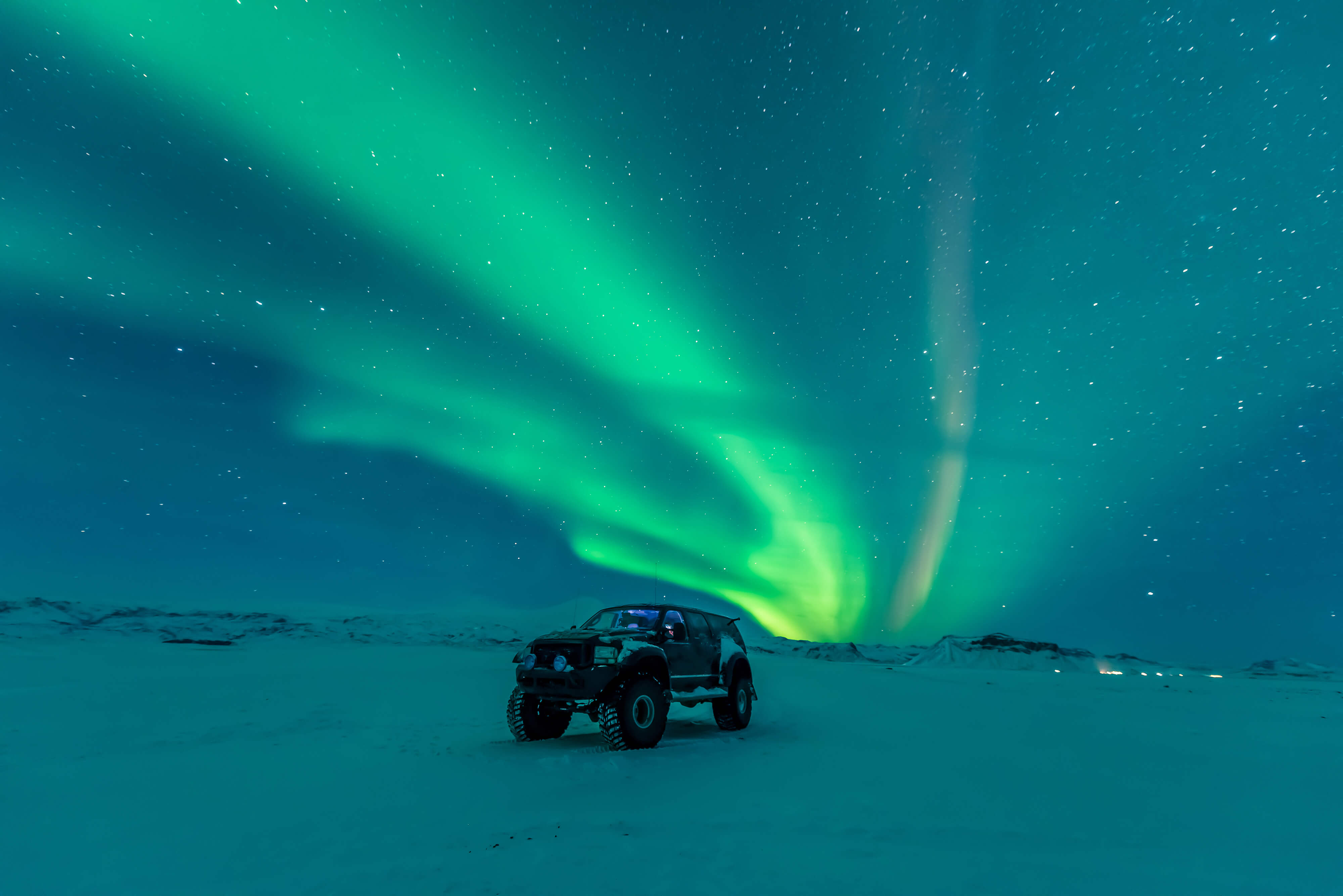 What to wear when Aurora hunting?
Make sure you are prepared (mentally and physically!) to spend a few hours out in the cold and dark nature of Iceland, you could be waiting a while for the northern lights and layers will be your best friends.
A few tips on what to wear:
Base layer: thermal or wool underwear for both top and bottom
Mid Layer: thick sweater (wool is best!) and comfortable thick pants
Outer Layer: winter coat, preferably water and wind resistant
Woolen socks, thick gloves and a warm hat
Boots or sturdy shoes
Eskimos Private Northern Lights tour: you will have your own car and private guide where you can warm up when you get cold, have something hot to drinks & blankets.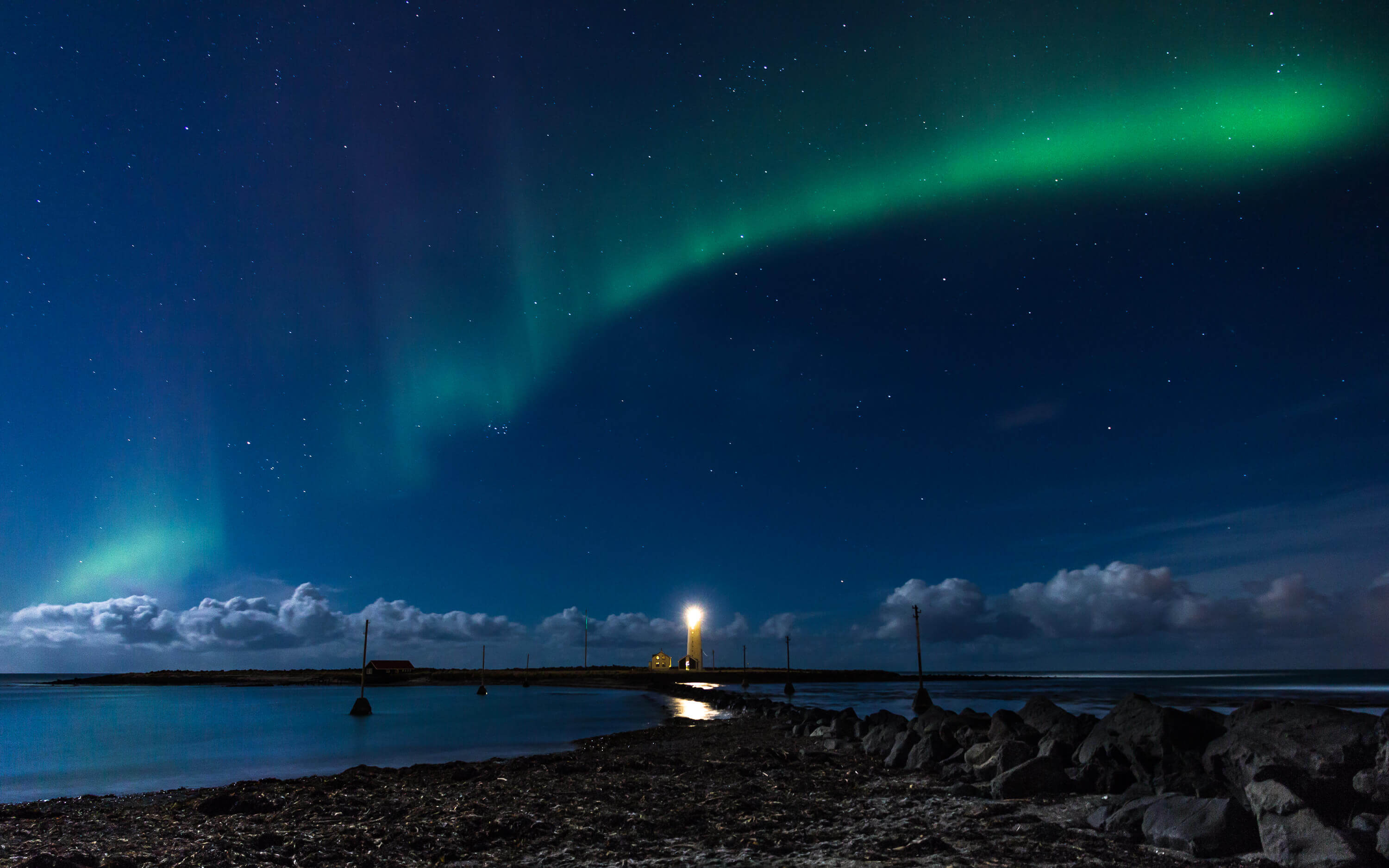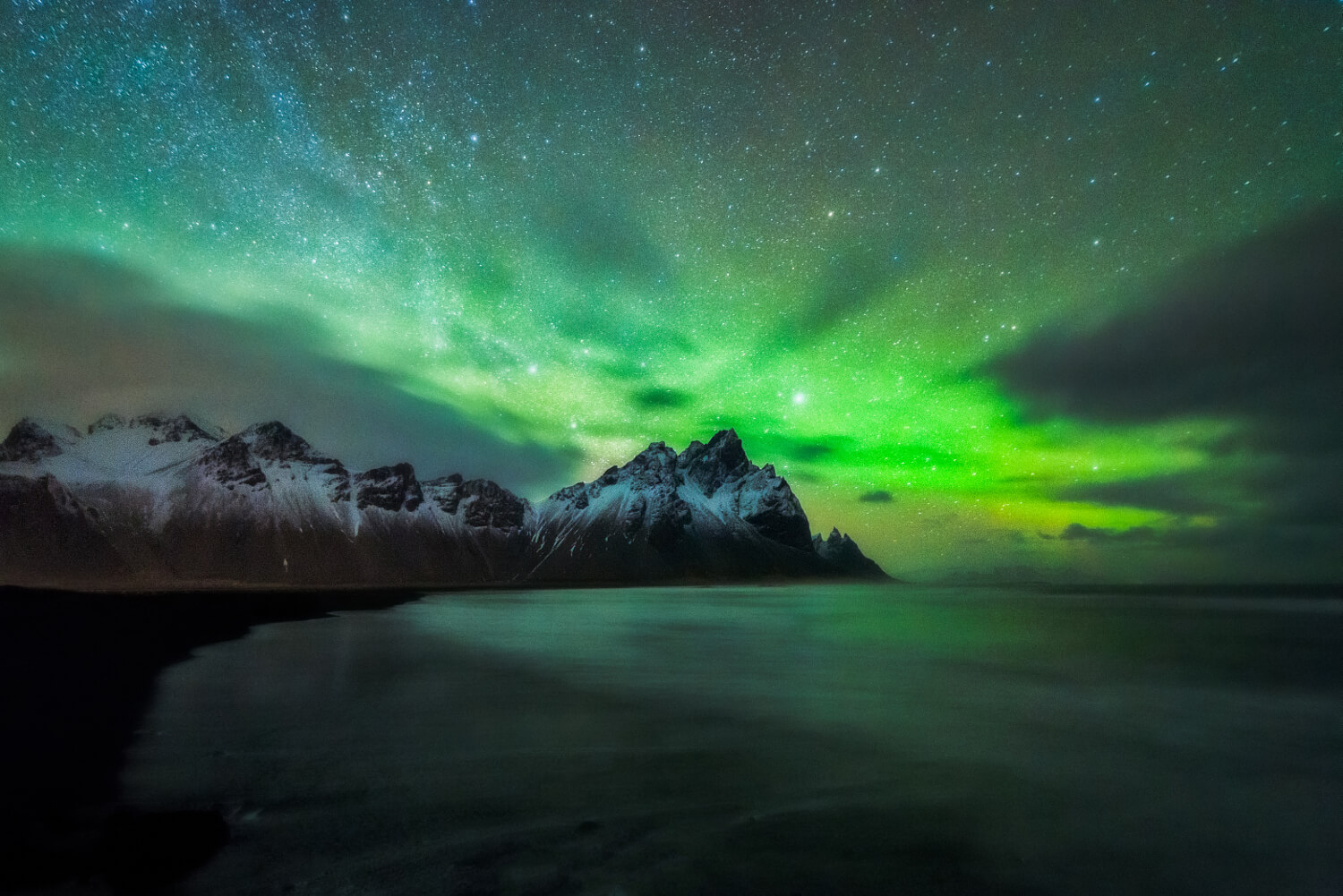 Where to get the best view of the Northern Lights
When you get your first glimpse of the northern lights, it won't really matter where you are at. It will be a magical moment! But, why not take the experience to the next level? Are you looking to add some romance or adventure to your aurora viewing? Or perhaps you just want a great place to capture some awesome photography!
Special moment on a private tour
If you are looking to propose to your special someone, celebrate an anniversary or just want to be alone without the crowds that the bus tours create, a private tour is something for you! Eskimos will go the extra mile for you to make the moment that you are looking to create extra special and unique!
"Every time I see the northern lights they seem too amazing to be real. It's more like a magic act happening in the sky. While no magic is actually involved" The aurora borealis display is guaranteed to leave you in awe.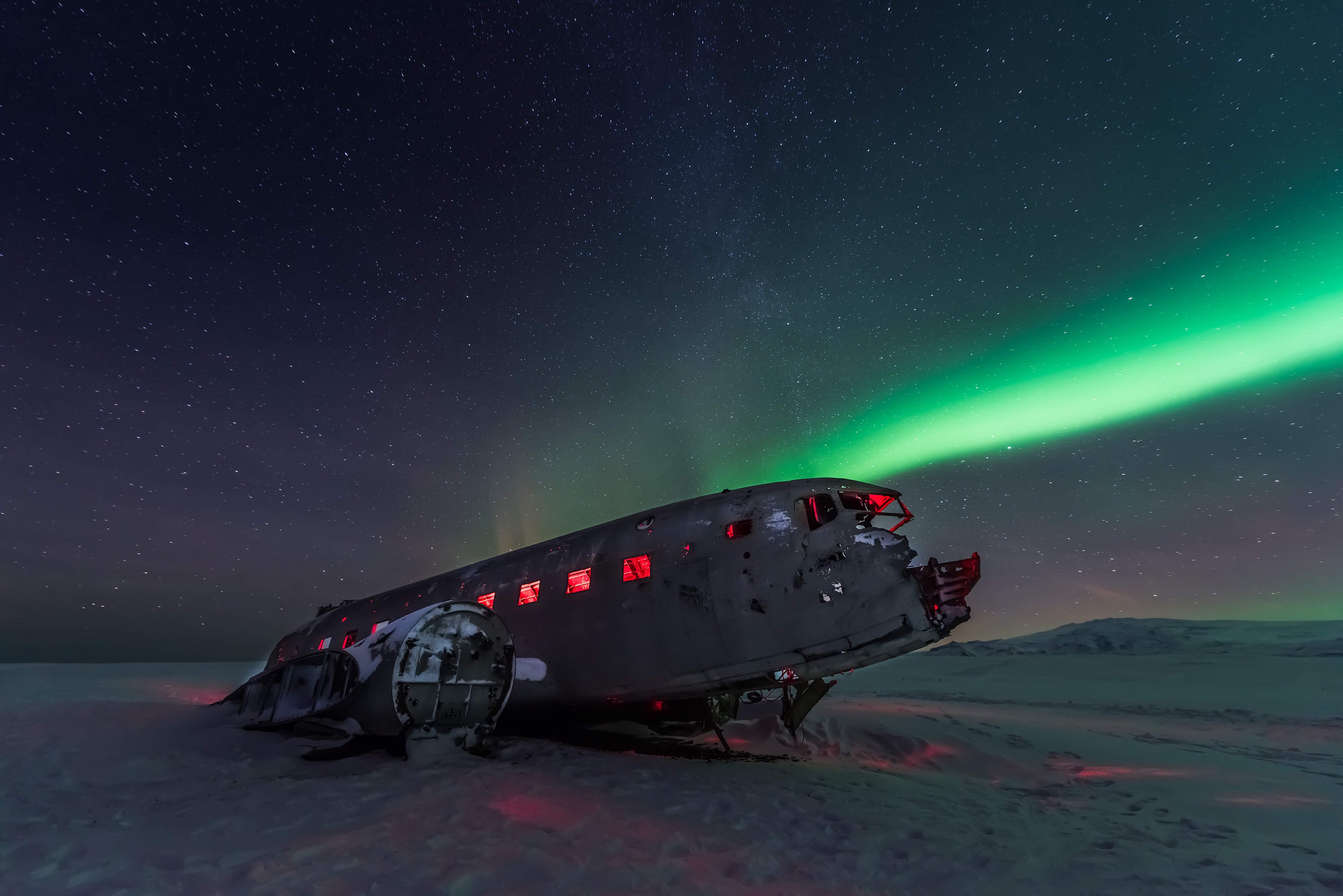 Have you seen the northern lights before? Who will be joining us in Iceland this winter for some northern lights hunting?
Check out our Amazing Packages
Private Northern lights packages in Iceland